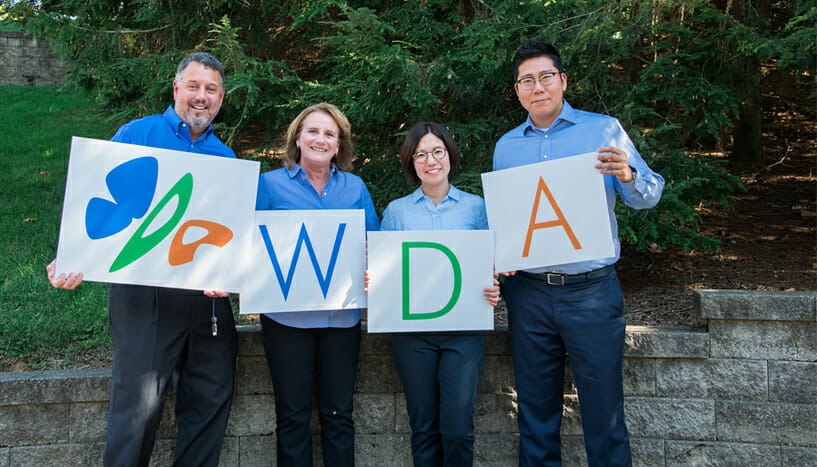 ---
Having a dental emergency? Call us!
---
We understand that dental emergencies don't always happen during regular business hours. We're open on Saturdays and here for you when you need us most.
---
Everyone at the office is very friendly and helpful, and the technicians are great. I feel like Westerville Dental is very much on top of the latest screening and monitoring techniques, and I really appreciate the thoroughness of the appointments in terms of measuring gum health as well as tooth health. I chose this place when I moved down here based on the good reviews, and I haven't been disappointed.

So professional AND friendly. I know that I am getting the best care for my whole family. Plus, the waiting area is beautiful and comfortable--like a living room!--with a special area for young ones to read and draw on the chalk boards.

So glad I found this office when I moved back to Ohio. I've had so many bad experiences at the dentist, this place is understanding and open to my questions, they explain everything and it really seems like they care. They also have an open and inviting waiting room that is beautiful.
Discover Better Dentistry
---
Become a part of the
Westerville Dental family!
---
We're accepting new patients. Our dental team prides itself on delivering a truly efficient and enjoyable experience while you're with us.
---
---

If you are like most people, you want to look your best, but your crooked teeth are ruining the cosmetic appeal of your smile.
You may have already decided that you want straighter teeth, but you may not know whether to get traditional braces or Invisalign. Traditional wire-and-bracket braces have been around for generations, of course, so you may be inclined to go with the same braces that your parents and grandparents have used. On the other hand, you might be tempted to try the newest and most innovative approach to straighter teeth – Invisalign.
Invisalign uses a series of clear plastic trays that fit your teeth snugly. Like conventional braces, the Invisalign trays gently guide your teeth into their desired location. Invisalign is noticeably different from wire-and-bracket braces, though, and some of these differences may make Invisalign the right choice for straightening your teeth.
Is Invisalign Right for Me? Here's How You'll Know
Invisalign is right for most – but not all – people. Keep reading to determine if you are a good candidate for Invisalign teeth straightening.
You want an appealing smile
Having an attractive smile is important. A recent survey found that we perceive people with straight teeth as being more successful, smarter and having more dates than people who have crooked teeth. Two in five of the respondents said they wouldn't go on a second date with someone who had crooked teeth, and more than half of the respondents said someone with misaligned teeth would be less likely to land a job when competing against someone with straight teeth.
You struggle with crooked teeth
Invisalign is perfect for addressing many common orthodontic problems, such as:
Crowding – when there isn't enough room on your jaw for all your teeth
Abnormal spacing – when some teeth are crowded together, but there are gaps between other teeth
Overbites – when your upper front teeth overlap lower front teeth
Underbites – when your lower front teeth extend outward farther than your upper front teeth
Crossbites – when your upper teeth and lower teeth do not meet correctly when you bite down
You have mild to moderate teeth misalignment
While it is not for severely crooked teeth, Invisalign is perfect for straightening mildly to moderately crooked teeth. It can even close gaps and overbites.
Dentists measure gaps and malocclusions, or crooked teeth, in millimeters (mm). Invisalign can address moderate gaps, crowding and overbites measuring up to 6 mm.
You are concerned about the appearance of metal braces
Whether you are an adult or teenager, metal braces can be embarrassing. Invisalign aligner trays are made from clear plastic, so they are virtually invisible – nobody will know you are straightening your teeth.
You don't want the hassle of metal braces
Metal braces can be incredibly inconvenient. You may have to forgo some of your favorite foods and drinks, for example, out of concern that they will harm your braces.
Invisalign takes all the hassle out of straightening your teeth. You can enjoy your favorite foods and beverages – just remove your aligner trays before you eat or drink, and return them to your mouth when you are through.
You want a more comfortable approach to teeth straightening
Traditional braces can be quite uncomfortable, with metal wires and brackets poking your tongue and cheeks. Invisalign uses ultra-comfortable smooth plastic trays that fit snugly over the entire surface of your teeth, so they never poke or prick the delicate tissue inside your mouth.
You are concerned with oral hygiene while wearing braces
Brushing and flossing around old-fashioned braces can be a pain. What's worse is that traditional braces make it almost impossible to remove food particles and bacteria from your teeth and gums, which puts you at greater risk for tooth decay and gum disease.
Brushing and flossing is easier with Invisalign: simply remove the aligner tray and brush and floss as normal.
You have all of your permanent teeth
Most dentists recommend that you wait until you have all your permanent teeth before starting Invisalign. This usually happens around the age of 12 or 13. Dentists prefer their patients to have all their adult teeth before starting Invisalign because it can be difficult to predict exactly how adult teeth will come in.
You are interested in a shorter treatment time
The speed at which your teeth move during teeth straightening treatment depends largely on how crooked your teeth are. In many cases, Invisalign provides faster results than conventional braces.
You are willing to wear clear aligners for at least 20 to 22 hours a day
Invisalign clear aligner trays work wonders for straightening teeth – but only if you wear them for at least 20 to 22 hours every day. For best results, leave your aligner trays in all the time except to eat and brush your teeth.
You don't smoke or use chewing tobacco
You shouldn't smoke while wearing Invisalign because the nicotine and other chemicals in tobacco smoke can damage the structure of the aligner trays, which can decrease the effectiveness of your teeth straightening efforts. You can always take out the trays to smoke, of course, but smoking can also cause other oral health issues that can negatively affect the outcome of teeth straightening.
You are responsible
Invisalign is nearly invisible, which means they are difficult to see when in your mouth and even harder to spot when you take them out – this means your aligner trays are at risk of being lost anytime they are out of your mouth.
To learn more about Invisalign and to determine if it is the right teeth straightening method for you, consult with the dentists at Westerville Dental Associates. We offer a wide variety of dental services to keep your teeth healthy and looking their best. Our team of dental professionals can help you decide whether traditional braces or Invisalign aligner trays are the best solution for you.