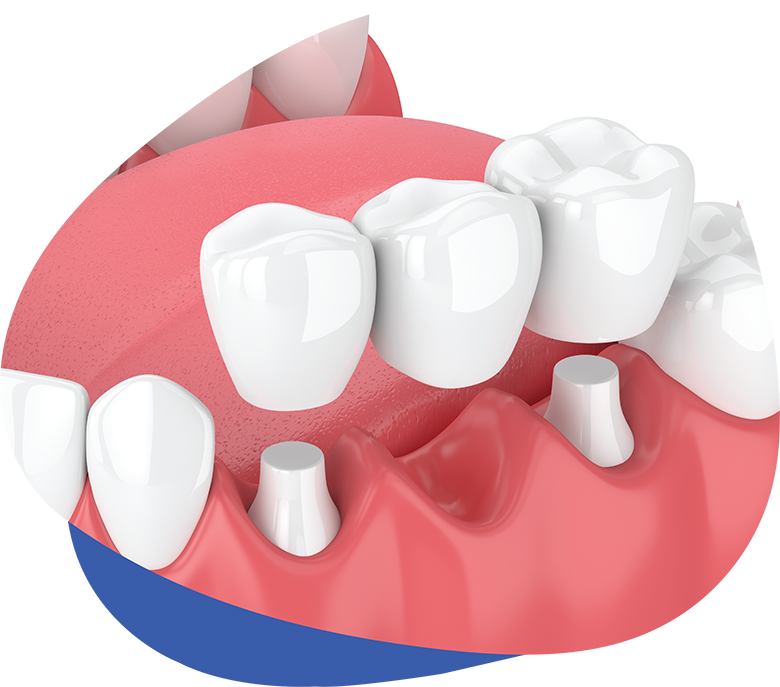 What is a Dental Bridge?
Westerville Dental Associates may suggest a bridge to restore and enhance damaged teeth or to replace missing teeth. 
Dental bridges literally bridge the gap caused by one or more missing teeth. With a bridge, one false tooth, called a pontic, is placed between two healthy teeth, called abutments. Each abutment will require a crown to make them strong enough to support the pontic. So if you're getting one new tooth, you will need two crowns and one pontic. 
Bridges are very durable and can last a lifetime with extra care and by practicing good oral hygiene. 
Dental Bridge Process
Bridges require at least two appointments. During the first appointment:
Areas are cleaned thoroughly and any decay removed.
The two "anchor" teeth are reduced in size to hold the bridge.
An impression (or "mold") is made to create your custom bridge.
A temporary bridge is then created from the mold and installed with temporary cement.
You will wear this temporary bridge while a dental laboratory creates your fixed bridge (approximately two to three weeks).
During the second appointment:
We'll remove the temporary bridge and clean the area thoroughly again.
The fixed bridge is then fitted onto your teeth.
In some situations, the fixed bridge is first sealed with temporary cement to allow surrounding teeth and tissue to adapt to the bridge before it is permanently affixed at a later appointment.
Our team will provide you with complete instructions on how to properly care for your new bridge, including proper oral hygiene practices.