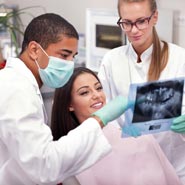 After the
, your tooth should feel much better.
However, you'll still want to take the necessary precautions so your tooth heals correctly. In this blog post, we will go over what patients experience in the days after root canal therapy so you can feel confident and informed when seeking dental treatment.
For more information, be sure to ask your family dentist what you can expect after a .
Tenderness in Jaw
It'll take some time for your body to root canal symptoms return, you'll want to call your emergency care dentist.
, so it's normal to feel tenderness near the affected tooth during the first few days after treatment. However, if the pain persists or your original
If your mouth is swollen or your bite feels uneven, you'll also want to schedule an emergency appointment with your root canal dentist. Since infected tooth pulp was removed, it only makes sense that the tissue in your jaw would be sore. Over-the-counter medications should help you manage pain.
You may experience jaw pain from having to hold your mouth open during the entire root canal treatment. Pain after root canals is common, but shouldn't persist beyond a few days after the procedure.
Brushing and Flossing Normally
After a root canal, you'll need to brush and floss your teeth as you normally would. While you may be tempted to baby the tooth that just got a root canal, it's more important to remove opportunistic dental plaque and bacteria from building up during
. While the treated tooth will still be sore for a few days, it should feel much better than the pain you were experiencing before your root canal.
Eating Carefully
While
, you'll need to avoid chewing or biting down on the treated tooth. We also recommend eating soft foods while your tooth recovers, such as soup, smoothies, or bite-sized pasta. Eating soft foods will reduce the possibility of biting down hard on a tooth that's trying to heal.
Coming Back for a Root Canal Crown
Once your tooth is healed, you'll have to come back to the dentist's office so they can remove your temporary crown and replace it with a permanent root canal crown. The dental crown will cover the entire visible portion of your tooth above the gum line to give you the look and function of a natural tooth.
Root canal recovery time should only take a few days after treatment. Once the infected tooth pulp has been removed, you should be feeling much better. Your dentist should let you know ahead of time what to expect following a root canal so you can come prepared to your appointment.
The Westerville root canal dentists at Westerville Dental Associates have dedicated their careers to providing patients with the highest level of dental care. If you are interested in learning more about our root canal therapy procedure, give us a call at 614-882-1135.