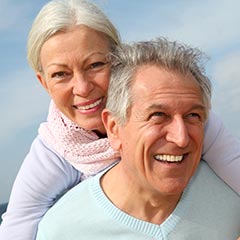 Cracked and decayed teeth really detract from the appearance of your smile. With a dental crown, you can get your teeth looking and functioning like new in no time. A dental crown is a tooth-shaped cover that is put over damaged or decayed teeth to prevent any further damage. Crowns restore teeth to their natural strength, function, and appearance.
What Are Crowns Used For?
Crowns can fix a wide range of cosmetic issues. If you have any of the following dental problems, a crown may be the right choice for you.
Broken or decayed teeth
Cracked teeth
Teeth that need dental bridges
Large cavities
Cosmetic reasons like misshaped or discolored teeth
Crown Procedure
Dental crowns typically require two trips to the dentist to complete. During the first visit, your dentist will do an examination to see if your tooth is capable of supporting a crown. If it is, your dentist will then begin to file and prep your tooth for the crown. An impression of your teeth will be taken and sent off to a lab to design your own personal crown. You'll receive a temporary crown to wear to prevent any further discomfort or damage to your tooth while you wait for your crown to be made in the lab.
At your second visit, the temporary crown will be removed and your permanent crown will take its place. The dental crown will be glued in place by a special adhesive and your tooth will be looking as good as new! Dental crowns last anywhere up to 40 years, so you can expect a beautiful smile for many years to come.
Cost of Dental Crowns
The cost of dental crowns all depends on what type of crown you get. Porcelain crowns, for example, are generally more expensive than gold crowns. And gold crowns are usually more expensive than porcelain fused to metal crowns. Dental crowns can cost anywhere from $500 to $900 per tooth. Some insurance companies partially cover the cost of crowns, so make sure to ask your insurance provider about coverage.
From harmful situations like decayed teeth to less serious situations like teeth discoloration, dental crowns can fix numerous dental issues. If you're unsatisfied with the health and appearance of some of your teeth, you may want to consider getting dental crowns. Talk to your dentist for more information and to determine whether crowns are the best option for you.
If you are interested in finding out more about dental crowns, contact our Westerville dentists through our website or call us directly at 614-882-1135. Westerville Dental Associates remains committed to being the very best at providing patients with optimal care, while making them feel right at home.