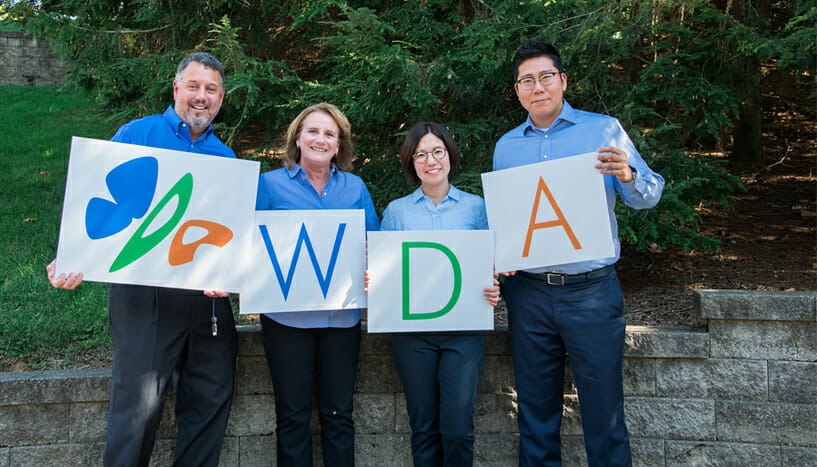 ---
Having a dental emergency? Call us!
---
We understand that dental emergencies don't always happen during regular business hours. We're open on Saturdays and here for you when you need us most.
---
Everyone at the office is very friendly and helpful, and the technicians are great. I feel like Westerville Dental is very much on top of the latest screening and monitoring techniques, and I really appreciate the thoroughness of the appointments in terms of measuring gum health as well as tooth health. I chose this place when I moved down here based on the good reviews, and I haven't been disappointed.

So professional AND friendly. I know that I am getting the best care for my whole family. Plus, the waiting area is beautiful and comfortable--like a living room!--with a special area for young ones to read and draw on the chalk boards.

So glad I found this office when I moved back to Ohio. I've had so many bad experiences at the dentist, this place is understanding and open to my questions, they explain everything and it really seems like they care. They also have an open and inviting waiting room that is beautiful.
Discover Better Dentistry
---
Become a part of the
Westerville Dental family!
---
We're accepting new patients. Our dental team prides itself on delivering a truly efficient and enjoyable experience while you're with us.
---
---

Do you feel self-conscious about your smile or suffer from dental issues that are affecting your oral health? Dental crowns could be the solution you've been looking for. A dental crown is a custom-made cap that covers and protects a damaged or decayed tooth, restoring it to its natural shape and size. In this blog, we'll explore the different types of dental crowns and how they can improve both your smile and oral health. We'll also cover the cost of dental crowns and how to care for them once they're in place. Finally, we'll discuss possible complications you may encounter with dental crowns and how long they typically last.
What are dental crowns?
Dental crowns are customized caps that help restore the shape and strength of damaged or weakened teeth. They can be made from various materials, including porcelain, ceramic, and metal. Besides cosmetic purposes, dental crowns also offer an array of benefits for oral health, such as protecting the teeth from further decay or damage. The application process involves taking a mold of the tooth to create a custom crown that fits comfortably over the existing tooth structure. Overall, dental crowns are an effective option for restoring both the function and appearance of your teeth.
How can dental crowns improve your smile and oral health?
Dental crowns can drastically improve both the appearance and function of damaged or discolored teeth, providing a permanent solution to dental problems. By restoring the shape, size, and color of a tooth, crowns can also correct bite issues and improve overall oral health. Additionally, they protect weak or cracked teeth from further damage and decay, boosting confidence by restoring your smile. Whether it's for cosmetic or functional purposes, dental crowns offer an excellent way to enhance your oral health and brighten your smile.
Types of dental crowns
When it comes to dental crowns, there are a variety of materials to choose from depending on the needs and preferences of the patient. Porcelain and ceramic crowns offer a natural-looking appearance and are highly durable, while gold crowns are known for their longevity. Zirconia crowns have become increasingly popular due to their strength and natural look. Stainless steel crowns, on the other hand, are often used for temporary restoration or baby teeth. By offering various types of dental crowns, dentists can provide patients with an effective solution that suits their unique needs.
Temporary crown
When waiting for a permanent crown to be prepared, a temporary crown can protect the tooth from further damage or decay. Temporary crowns are usually made of acrylic or stainless steel and are not as durable as their permanent counterparts. Patients may need to replace them more frequently, but temporary crowns allow them to become familiar with the look and feel of having a crown before the permanent installation. Following proper care instructions is crucial to ensure that the temporary crown lasts until the permanent one can be installed.
One-day crown
If you're looking for a quick and efficient solution to damaged teeth, one-day crowns may be the perfect option for you. These types of crowns can be created and placed in one dental visit using the latest CAD/CAM technology. Thanks to precision measurements taken by computer software, one-day crowns provide an excellent fit and are both strong and durable. By eliminating the need for temporary crowns and multiple dental visits, they save time and reduce discomfort while improving your smile and oral health.
Onlay or 3/4 crown
When it comes to dental crowns, onlays or 3/4 crowns are a great option for those with damaged teeth that don't require a full crown. These types of crowns provide added support to the tooth while preserving more of the natural tooth structure than a full crown. Made from materials such as porcelain or composite resin, onlays can also be matched to the color of your natural teeth, providing an aesthetically pleasing solution. Additionally, compared to traditional crowns, onlays may reduce the risk of gum irritations, making them an excellent option for many patients.
Who needs a dental crown?
Patients with a variety of dental issues may require a dental crown. Crowns are commonly recommended for patients who have decayed or weakened teeth due to injury or wear and tear. Additionally, crowns are used to cover dental implants and as part of a bridge to replace missing teeth. Patients with misshapen or discolored teeth can benefit from cosmetic crowns to improve the appearance of their smile. Furthermore, people with strong grinding habits may also need crowns to protect their teeth from further damage. Your dentist will evaluate the condition of your teeth and recommend an appropriate treatment plan for you based on your needs.
Dental Crown Costs
The cost of dental crowns can vary widely depending on several factors. The type of material used, the complexity of the procedure, and your location can all impact the final cost. Porcelain or ceramic crowns tend to be more expensive but offer a natural-looking appearance that blends in seamlessly with your natural teeth. On the other hand, metal crowns may be less expensive but are more noticeable in the mouth. It's important to discuss payment options with your dentist, as some insurance plans may cover a portion of the cost. Additionally, there could be financing options available to help you manage the expense.
Dental Crown Care
Maintaining good oral hygiene practices is essential for the longevity and durability of dental crowns. Brushing and flossing regularly helps prevent plaque buildup, which can lead to gum disease or decay. It's also important to avoid using teeth as tools or chewing on hard objects that can damage the crown. Regular dental check-ups ensure that any issues with the crown are addressed promptly, preventing potential complications in the future. In case of a damaged or broken crown, seeking immediate dental care is crucial to avoid further damage or discomfort.
Permanent dental crown care
Proper dental crown care is essential to ensure the longevity and effectiveness of your dental crowns. After receiving permanent dental crowns, it is vital to continue practicing good oral hygiene habits such as brushing, flossing, and rinsing with an antiseptic mouthwash regularly. Chewing hard or sticky foods can damage the crown or loosen it from its position, so avoid them whenever possible. Regular dental checkups are also necessary to monitor the condition of your crown and identify any potential issues before they become more serious. If you experience discomfort or sensitivity with your dental crown, contact your dentist immediately for evaluation and treatment.
Temporary dental crown care
Proper care of temporary dental crowns is critical to ensure they don't break or come loose before the permanent crown placement. Avoid sticky or hard foods that can dislodge the temporary crown, and chew on the opposite side of your mouth from the crown. Brush and floss carefully around the temporary crown to avoid damaging it or causing gum irritation. If the temporary crown becomes loose or falls out, contact your dentist immediately to prevent further complications. With proper care, temporary dental crowns can serve as an effective interim solution while waiting for a permanent dental crown to be placed.
How long do dental crowns last?
Dental crowns can be a long-lasting solution for many oral health issues. With proper care, dental crowns can last for 10-15 years or longer. Factors such as oral hygiene, diet, and the material used for the crown all play a role in determining its lifespan. Regular check-ups and cleanings with your dentist can also help prolong the life of a dental crown. In some cases, a dental crown may need to be replaced due to wear and tear or damage. However, with good oral hygiene habits and regular dental visits, you can enjoy the benefits of a beautiful and functional smile for many years to come.
Conclusion
In conclusion, dental crowns are an excellent solution for improving your oral health and enhancing your smile. They provide a protective covering for damaged teeth, making them stronger and more functional. With different types of crowns available, you can choose the one that best suits your needs and budget. However, it's important to take good care of your dental crowns to ensure their longevity. Remember to maintain good oral hygiene and schedule regular dental checkups. If you experience any complications with your dental crown, seek immediate care from your dentist. To learn more about dental crowns and how they can benefit you, contact us today at Westerville Dental Associates.