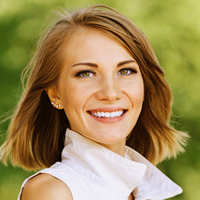 Westerville Dental Associates can professionally whiten your teeth to remove stains or discolorations on the outer tooth area and give you that beautiful smile you're looking for.
Teeth whitening (or bleaching) is a simple, non-invasive dental treatment that alters your teeth's natural enamel and can be accomplished at our offices or at home.
What you should know about Teeth Whitening
Traditional teeth whitening typically requires at least two appointments.
During the first appointment:
Areas are cleaned thoroughly and any decay removed.
An impression (or "mold") is made to create a custom, clear plastic mouthpiece (tray).
This piece is used to hold a special whitening gel against your teeth.
During the second appointment:
The mouthpiece is fitted exactly to your mouth, and trimmed to ensure it fits comfortably below the gum lines to avoid irritation.
At this time, you will be given your whitening kit, containing the mouthpiece, whitening gel, and applicator.
You should see results within three days of starting the whitening process. It usually takes approximately four to five applications to see one color shade change.
Our staff will provide you with complete instructions on how to properly use your whitening kit and answer any questions you might have about the care of your teeth.
Teeth Whitening is used to treat:
Fluorosis (excessive fluoridation during tooth development)
Stained teeth due to medications
Yellow, brown stained teeth
Normal wear of outer tooth layer
Read more about teeth whitening at the American Dental Association's website.
To learn more about Westerville Dentist Brian Stickel DDS, any of our preventative dental services or to make an appointment please contact our office or call us directly at 614.882.1135.