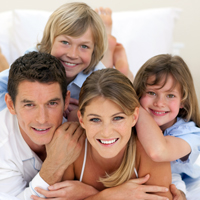 Westerville Dental Associates encourages our patients to schedule routine exams and cleanings to prevent serious problems, such as gum disease and oral cancer, from developing and keep your teeth healthy and strong.
During these check-ups, our staff examines teeth and gums for any signs of disease or decay and removes any build up, including tartar and plaque, which has not been cleaned by regular brushing.
What you should know about Dental Exams
We typically will take x-rays to examine tooth and root positions and detect any possible decay or bone loss.
Face, neck, mouth and other areas are checked for signs of oral cancer.
Gums and the bone around your teeth are examined for signs of periodontal disease.
Any previous restorations, including crowns, implants or fillings, are also examined for stability and possible infection.
The surfaces of your teeth are then fully checked for decay and thoroughly cleaned by a registered hygienist.
If necessary, surface areas are further polished to remove stain and plaque.
As always, the staff at Westerville Dental Associates will provide you with complete instructions on daily care for your teeth and gums, including proper oral hygiene practices and appropriate eating habits.