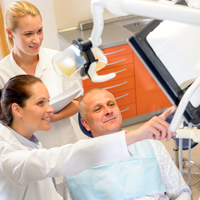 Our dentists are on the forefront of dental innovations, continually investing in the latest tools and technologies to improve the quality of care and reduce the time you spend in our offices, including:
I-Cat Dental Imaging System - This system provides an incredibly accurate 3D image of the patient's skull after a brief scan, with less radiation than a full mouth x-ray series. This is the new standard of care in restoration, implant treatment, sleep apnea, oral maxillofacial TMJ airway treatment and sinus surgery.
Diode Laser - This state-of-the-art technology has many uses, from cosmetically reshaping the architecture of gums, to uses in dental hygiene to kill bacteria in periodontal pockets and arrest the progression of periodontal disease, to removal of decay from teeth to oral surgery. It is faster and more efficient, painless, more sterile, less invasive and safer.
Digital Radiography – Allows our dentists to look painlessly into your mouth and accurately diagnose dental problems within seconds, with minimal radiation exposure.
Intra Oral Cameras – Uses a handy pen-sized, camera-tipped wand to project images of your mouth to a computer where we can both view treatments together, greatly enhancing discovery and educating our patients.
Diagnodent Laser Cavity Detectors – Inspects your teeth using a simple laser to uncover decay that might not be visible to the human eye.
Cerec Computer Technology – Eliminates the need for a laboratory to manufacture a routine crown, milling it right in our office during your visit.
Sedation Dentistry – Makes it possible to perform several dental procedures in the same visit without any discomfort. We can provide oral sedation, IV sedation and general anesthesia.
Clear Correct and Invisalign – Straightens your teeth without braces using a series of clear removable aligners to ensure a healthier and more beautiful smile.