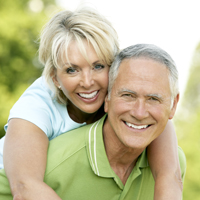 When damage or decay to a tooth is severe, our Westerville dentists will create a crown – most often from porcelain – to strengthen it or improve its appearance, restoring your problem tooth to its natural shape and size.
Crowns are commonly used to restore damaged and misshaped teeth, as well as protect weaker teeth from breaking or becoming further damaged.
What You Should Know About Dental Crowns
Crowns require at least two appointments. During the first appointment:
We numb your tooth before any work is begun.
Areas are cleaned thoroughly and any decay removed.
An impression (or "mold") is made to create your custom crown.
A temporary crown is then created from the impression and installed with temporary cement.
You will wear this temporary crown while a dental laboratory creates your actual crown (approximately two weeks).
During the second appointment:
The temporary crown is removed.
The tooth is thoroughly cleaned again.
The new crown is fitted permanently to your tooth.
Our staff will provide you with complete instructions on how to properly care for the new crown, including proper oral hygiene practices and appropriate eating habits.
Dental Crowns Are Used To Treat
Large fillings
Broken or fractured teeth or fillings
Decayed teeth
Cosmetic enhancements
Teeth repaired with a root canal
Read more about dental crowns at the American Dental Association's website.
To learn more about Westerville Dentist Brian Stickel DDS, any of our preventative dental services or to make an appointment please contact our office or call us directly at 614.882.1135.